Tuesday 27 December 2011
Harry Styles: We'll be naked on the One Direction tour bus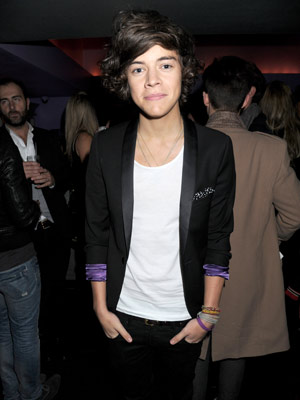 Harry Styles loves to take his clothes off
Harry Styles is very excited about the One Direction tour, which kicks off in the New Year.
And it looks as if the boys intend to have fun while they're travelling from Bournemouth to Dublin.
'I don't think there are going to be many rules on the tour bus,' predicts Harry, 17.
'Clean up after yourself!
'Naked at all times.
'Get up at 9.30am every day, maybe 10.
'And only one glass of milk before bed.'
Read the full interview with Harry Styles in Teen Now dated December 2011/January 2012 - out now!
SEE EXCLUSIVE VIDEO Teen Now meets One Direction>>
SEE VIDEO One Direction mobbed by screaming fans in London>>
NEW PICTURES One Direction promote new single What Makes You Beautiful on Radio 1>>
SEE PICTURES The X Factor 2011 live shows - Amelia Lily makes a triumphant return in week 6>>

SEE PICTURES The X Factor 2011 live shows - week 5>>
SEE PICTURES The X Factor 2011 live shows - week 4>>
SEE PICTURES The X Factor 2011 live shows - week 3>>
SEE PICTURES The X Factor 2011 - week 2>>
SEE PICTURES The X Factor final 16 contestants settle into their new house>>
SEE PICTURES The X Factor 2011 Final 16>>
SEE PICTURES The X Factor 2011 Final 32>>
SEE PICTURES Tulisa Constostavlos and Kelly Rowland party before X factor launch>>
SEE PICTURES The X Factor judges launch the 2011 show>>