Friday 23 December 2011
One Direction's Harry Styles: I talked too much at school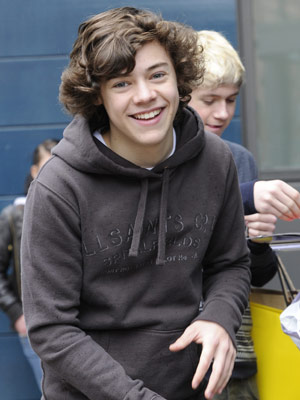 Harry Styles is a chatty boy
One Direction cutie Harry Styles wasn't a model student.
If fact, the 17-year-old schoolhe found it hard to concentrate.
'I was quite loud, I was very talkative and I got distracted very easily,' he tells Teen Now.
'My school reports used to say: "Doesn't achieve his potential because he talks too much in class."'
Read more about Harry Styles and One Direction in Teen Now magazine dated December 2011/January 2012 - out now!
NEW PICTURES Get Harry Style's cute fashion look>>
CUTE PICTURES Harry Styles takes One Direction back to his school>>
PHOTO GALLERY One Direction are big babies in their jumpsuits>>
NEW PICTURES Justin Bieber's life story in photos>>
NEW PICTURES Justin Bieber: Lowdown on the teen star>>
SEE PICTURES Justin Bieber in The top 20 teen idols>
SEE PICTURES Justin Bieber: Never Say Never premieres in London>>
SEE PICTURES The X Factor 2010 - the finalists' stylish makeovers>>
SEE PICTURES The X Factor 2010 - auditions>>