Tuesday 27 December 2011
Kimberley Walsh: Cheryl Cole has had a life-changing experience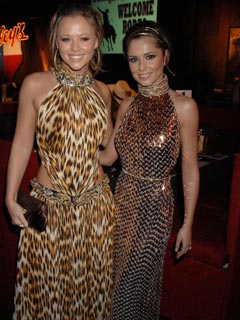 Kimberley Walsh will always there for her best friend Cheryl Cole
Cheryl Cole's band mate and best buddy Kimberly Walsh thinks the world is underestimating the Geordie singer.

Ever since her very public sacking from X Factor USA in May, Cheryl, 28, has had a bit of a tough time.

But Kimberley, 30, know Chezza is doing just fine.

'People really don't know Cheryl. Everybody talked about it like it was the most horrific thing, that it was this massive deal, but it wasn't like that for her,' says Kimberley.

'She's very much: "That's life, some things don't work out and let's move on."

'It annoys me when people say this was her big American Dream.
'She's not like that. She's very much a person who decides what she's doing there and then without any big premeditated plan.'

Kimberley believes Cheryl's battle with malaria in July was what we really should have been worried about.

'What she went through when she was seriously ill was a life-changing experience,' Kimberley tells Fabulous.

'You can't even compare what happened in America to that.'
Shop Cheryl Cole shoes at Stylistpick.com>>
FASHION GALLERY SPECIAL Cheryl Cole's fashion history - the highs and the lows>>
NEW PICTURES Cheryl Cole wears nude dress to meet Prince Charles>>
SEE PICTURES Cheryl and Ashley Cole: The story so far>>
MORE PHOTOS Cheryl Cole looking red hot at the Elle Style Awards 2011>>
SEE PICTURES The life of Ashley Cole's ex Cheryl Cole>>
SEE PICTURES Cheryl Cole and Nicola Roberts support Girls Aloud bandmate Kimberley Walsh at her Shrek debut>>
SEE PICTURES Kimberley Walsh - Girls Aloud kick off Out Of Control tour>>
MORE PHOTOS Cheryl Cole looking red hot at the Elle Style Awards 2011>>