Thursday 29 December 2011
Demi Moore: I want to meet Ashton Kutcher's other woman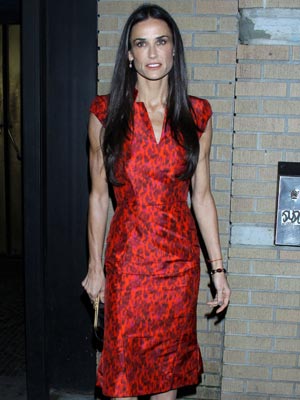 Demi Moore wants to know the truth about Ashton Kutcher
After learning that her toyboy hubby strayed with a woman 26 years her junior, you'd think the last thing
Demi
Moore
would want to do is meet up with
Sara
Leal
, 23, the student who helped ruin her marriage.
But that's exactly what the star plans to do in 2012, in a desperate bid to get some closure on her relationship with Ashton Kutcher, 33.

A source says: 'Demi's furious that Sara's still seeking fame and publicity over the affair.'

In a recent interview, Sara spoke of how the fling had 'ruined' her life because she'd lost her job and been shunned by family.

That didn't go down well with Demi, 49.

'She lashed out, telling friends that Sara's "the most selfish woman alive",' adds our source.

'Demi couldn't believe Sara's audacity in saying her life had been ruined when she's the one still grieving over her failed marriage.
'Not once has Sara attempted to apologise to Demi, which has made her even more incensed.'
Read the full story about Demi Moore and Ashton Kutcher in Now magazine dated 2 January 2011 - out now!
SEE PICTURES Demi Moore and Ashton Kutcher in Celebrity splits 2011>>
SEE PICTURES Celebrity toyboys>>