Friday 16 December 2011
Sir Jimmy Savile leaves £5 million to good causes in charity accounts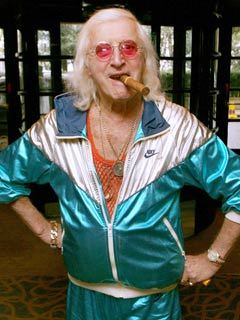 Sir Jimmy Savile was knighted by the Queen in 1990
The late Sir Jimmy Savile has left behind more than £5 million to charity in special accounts.
The Jimmy Savile Charitable Trust holds £3.6m, while his Stoke Mandeville Hospital Trust contains £1.6m, reveals a report published by the Charity Commission.
Generous Sir Jimmy - who received royalties from shows such as Jim'll Fix It and was paid thousands for public appearances - also donated £45 million to charities while he was alive.
The DJ and TV presenter, who died aged 84 in October, had a personal next egg worth at least £2.5m. He owned a penthouse flat in Leeds, a flat in Scarborough, a cottage in ­Scotland, a
flat in London, and a home in Bournemouth.
'He was
tireless in his attempts to fund-raise for the hospital,' says a
spokesman for Stoke Mandeville. 'He will be sorely missed.'
The details of Sir Jimmy's will are yet to be announced.
SEE PICTURES Celebrity deaths 2010>>
Esme Riley