Wednesday 07 December 2011
Bruce Willis' wife Emma: Back off, Demi Moore!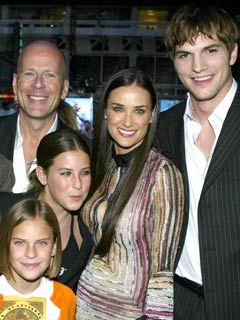 Bruce Willis has =3 daughters with Demi Moore and got on well with Ashton Kutcher
Surely every guy on the planet knows not to cross a pregnant woman?
Yet, despite having three daughters, it seems Bruce Willis hasn't learnt his lesson.

Even though his wife Emma Heming, 33, is six months pregnant, the Die Hard star, 56, has been calling his ex Demi Moore daily since her split with Ashton Kutcher, 33.

But Emma definitely isn't happy.

'Bruce has been worried sick about Demi, both as his ex and the mother of his daughters,' says an insider.

'He's been in constant contact with her since the whole Ashton scandal broke.

'They're talking several times a week and he's told her to call if she needs him any time day or night.

'Emma adores Demi and feels sorry for her but she feels Bruce is spending more time concentrating on his ex-wife than he is on her and their unborn child.'
Read the full story on Demi Moore and Bruce Willis in Now magazine dated 14 December - out now!
SEE PICTURES Demi Moore and Ashton Kutcher in Celebrity splits 2011>>
SEE PICTURES Celebrity toyboys>>