Saturday 31 December 2011
Taylor Lautner: Brazilian National Guard had to rescue me and Kristen Stewart from 2,000 Twilight fans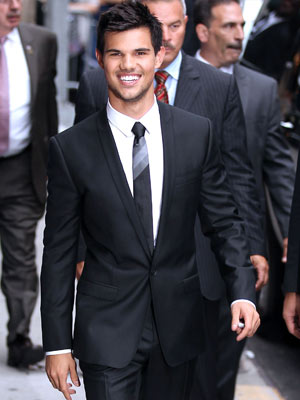 Taylor Lautner says fans can sometimes be scary
Taylor Lautner has been a sex symbol for Twilight fans since first appearing as werewolf Jacob Black in 2008.
But the 19-year-old actor wasn't quite prepared for the reaction he got while doing press for Breaking Dawn - Part 1 in Brazil.
'The Brazilian fans were very physical. We had 2,000 girls break into our hotel at one point,' reveals Taylor.
'Kristen [Stewart] and I were doing interviews in a room and all of a sudden our security barges in, closes the door and locks it.
'We were like: "What's going on?" and they're like, "Remain calm, but 2,000 girls have just broken through the hotel lobby, they got past security and they're on the way up the staircase to get to this room".'
The threat was so severe, security couldn't deal with the situation alone.
They were forced to call in the National Guard.
'We were pretty scared at first, but then he's like: "It's OK, we have the National Guard on their way and they'll be able to get them out",' the actor tells Celebs On Sunday.
'So we were on lockdown in that tiny room for 45 minutes, but the National Guard did arrive and we were able to get the girls out, so we continued the day.
'But it was an interesting experience, for sure.'
PHOTO GALLERY Twilight's Robert Pattinson vs Taylor Lautner>>
SEE PICTURES Taylor Lautner - child star to Twilight hunk>>
SEE PICTURES Robert Pattinson stars in Twilight - an international phenomenon>>
PHOTO GALLERY Twilight's Robert Pattinson vs Taylor Lautner>>
SEE PICTURES Robert Pattinson and Kristen
Stewart kiss at MTV Movie Awards>>
Anna Duff