Tuesday 29 November 2011
SHOCK! Is Cher Lloyd engaged to Craig Monk?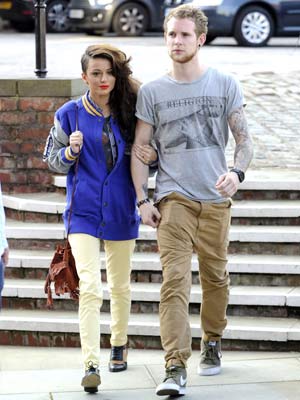 Cher Lloyd is looking forward to having kids with Craig Monk
Cher Lloyd has been snapped with a ring on her third finger, left hand.
The 18-year-old singer wore the band for her journey to LA with Essex boyfriend Craig Monk, prompting rumours the couple have taken their relationship to the next step.
Cher started dating former builder Craig earlier this year and they've already moved in together.
The feisty singer previously revealed that her life has completely changed since she met Craig, 21, and she plans to be with him forever.
'He is my rock,' she told The Daily Star. 'I want to get married and have children. He's "the one".
'To be honest I wouldn't want to get out of bed in a morning if it wasn't for him.
'I was depressed before I met him.'
SEE PICTURES Cher Lloyd launches hot new album Sticks And Stones>>
SEE PICTURES Cher Lloyd rocks bright red wavy bob on X Factor Tour 2011>>
PHOTO GALLERY Cher Lloyd and The X Factor girls are lashed>>
GREAT PICTURES Cher Lloyd visits her old school in Malvern>>
SEE PICTURES The X Factor 2010 - Cher Lloyd & finalists get stylish makeovers>>
Esme Riley