Wednesday 23 November 2011
Abbey Clancy: I want baby Sophia to be a pop star not a footballer like Peter Crouch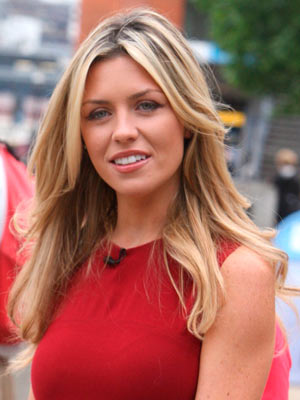 Abbey Clancy hopes Sophia has singing talent
Abbey Clancy's husband Peter Crouch may be one of England's top footballers, but she doesn't want her 8-month-old daughter becoming a sportswoman.
The 25-year-old would prefer baby Sophia to do something a little more girly - such as singing.
'Sophia will probably be good at sports, but I don't want my daughter to be a football or basketball player,' says Abbey.
'I'd be happy for her to be a pop star.'
And the proud mum is already making sure Sophia gets in plenty of training for her future career.
While she's in Dubai, Stoke City player Peter, 30, is at home in the UK encouraging their daughter to develop her natural talent.
'She's very musical and loves playing the tambourine - she has daily music lessons,' Abbey tells the Mail On Sunday.
'Pete has been sending me lots of pictures of her swimming or at music lessons.'
NEW PICTURES Abbey Clancy joins guests at the GQ Men Of The Year Awards 2011>>
PHOTO GALLERY Abbey Clancy takes mum to India>>
SEE PICTURES Abbey Clancy and Peter Crouch - their love story>>
SEE PICTURES Engaged celebrities>>
SEE PICTURES Pregnant celebrities>>
SEE PICTURES Celebrity births 2011>>
SEE PICTURES Celebrity baby names A to Z>>