Monday 21 November 2011
SAD NEWS Bee Gees singer Robin Gibb is battling liver cancer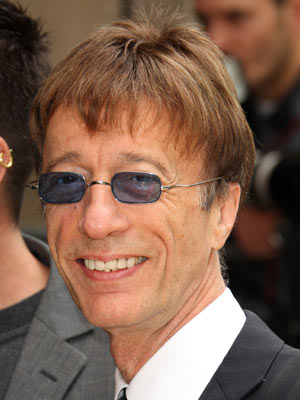 Robin Gibb is being cared for at home by his wife Dwina
Robin Gibb is determined to stay positive in his battle against liver cancer.
The 61-year-old Bee Gees star has reportedly been undergoing private treatment at a Harley Street clinic since May but is now being looked after by his wife Dwina, 58, at their Oxfordshire home.
'Robin has been a pinnacle of strength and is showing enormous courage and dignity,' says a family friend.
Last October Robin underwent surgery for a blocked intestine - the same condition that killed his twin brother Maurice in 2003.
In April an examination for crippling abdominal pains revealed the cancer and last month he was treated for inflammation of the colon.
'Robin's fans should remember at this time what a legendary musician he is and the impact he has had on popular culture,' another pal tells The Sun.
Robin appeared on The Alan Titmarsh show last month but had to miss the Remembrance Sunday edition of BBC1 show Songs of Praise and was too ill to meet with Prime Minister David Cameron to launch a single in aid of the Poppy Appeal.
The musician, a tee-total vegan, and Dwina are now reported to be considering a trip to a Native American medicine man to look for a natural cure.
Robin is dad to Spencer, 38, and Melissa, 36, from his first marriage, Robin-John, 26, with Dwina and another daughter, Snow Robin, 3, with housekeeper Claire Yang.