Sunday 25 December 2011
Gastric band? Dawn French: Shut up, Anne Diamond!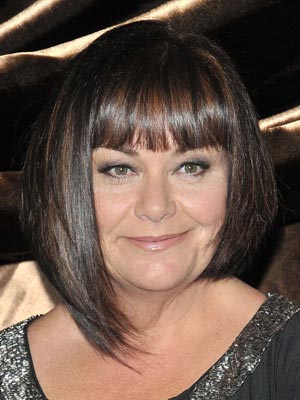 Dawn French is believed to have lost 6st or more
Dawn French has laughed off the suggestion her dramatic weight loss is due to 'swallowing a gastric band'.
In a Radio 2 Christmas special with comedy partner Jennifer Saunders, Dawn hits back at TV presenter Anne Diamond, who had gastric band surgery in secret herself and wondered if the comedienne had taken the same route to slim down.
'I spoke to an obesity surgeon today who said that the easiest way to guarantee your sort of dramatic and consistent weight is to have a gastric band or a gastric bypass,' Anne, 57, wrote in November in an open letter published in the Daily Mail.
'Your spokesman insists that's not the case.
'What I do know is that I made the terrible mistake of keeping quiet after I had gastric-band surgery, and I paid a heavy price for that when I was betrayed.'
In the radio special, 54-year-old Dawn quips: 'Thank you, Anne, for putting me right. Aren't I lucky that I have Anne Diamond telling me how to live?'
Jennifer asks: 'Dawn, have you swallowed a gastric band?' and Dawn replies: 'No, I have not.' Then they both shout: 'Shut up, Anne Diamond.'
Vicar Of Dibley star Dawn, who once weighed 19st, has lost 6½ in 19 months.
NEW PHOTOS Dawn French: Her weight loss story>>
SEE PICTURES Celebrity weight gains and losses>>
SEE PICTURES Celebrity splits 2011>>
SEE PICTURES Celebrity splits 2010>>
Esme Riley