Thursday 17 November 2011
Frankie Cocozza's dad: X Factor encouraged my son to be a party boy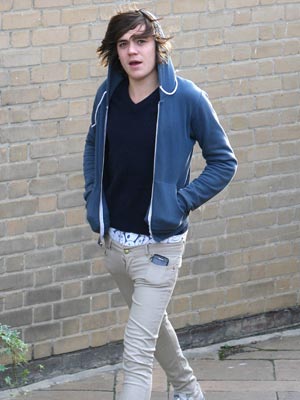 Frankie Cocozza still hopes to have a career after his X Factor exit
Frankie Cocozza was booted off The X Factor after a wild cocaine-fuelled bender but his dad, Frankie Sr, feels his son was encouraged by his mentor Gary Barlow to go out on the town.
Given a long leash, the 18-year-old began hitting trendy London nightspots, boozing until the early hours, taking advantage of fawning female fans.

While his dad accepts Frankie Jnr made mistakes, he says he and his son both feel the show pushed him into a 'party boy' role just to get headlines.

He tells us: 'Frankie felt like it was all about him being the wild child and he lived up to that, thinking it would help him in the contest.

'Everything was put on a plate for him.

'There was no support or guidance from the show.

'People in his position need guidance not encouragement.'

Read the full story about Frankie Cocozza in Now magazine dated 21 November 2011 - out now!
SEE PICTURES The X Factor 2011 live shows - week 5>>
SEE PICTURES The X Factor 2011 live shows - week 4>>
SEE PICTURES The X Factor 2011 live shows - week 3>>
NEW PICTURES The X Factor 2011 - week 2>>
NEW PICTURES The X Factor final 16 contestants settle into their new house>>
NEW PICTURES The X Factor 2011 Final 16>>
NEW PICTURES The X Factor 2011 Final 32>>
NEW PICTURES Tulisa Constostavlos and Kelly Rowland party before X factor launch>>