Friday 11 November 2011
Pudsey Bear helps BBC Children In Need create a digital supercake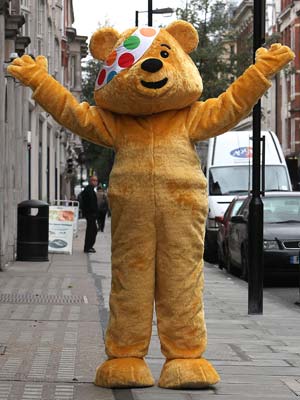 Pudsey Bear is back to promote Children In Need 2011
A slice of cake is always yummy, but BBC Children In Need is aiming to create one fantastic charity online dessert.
Pudsey Bear and co have launched their first ever Facebook app Fancy A Spot Of Cake, which aims to build a giant digital gâteau through user donations.
Once you've given your bit to help disadvantaged children you can add your own fun layers, fillings and decorations.
But it's not all give - the BBC have also spoiled us with special layers featuring exclusive videos from shows such as Strictly Come Dancing and EastEnders.
Add your decoration to the cake on Facebook now.
NEW PICTURES Strictly Come Dancing Stars arrive at rehearsals>>
NEW PICTURES Strictly Come Dancing 2011 - contestants' dance partners for new series revealed>>
SEE PICTURES Strictly Come Dancing 2010 contestants revealed>>
SEE PICTURES Strictly Come Dancing star Kara Tointon Style File>>
Anna Duff