Friday 11 November 2011
SHOCK! Pippa Middleton splits with boyfriend Alex Loudon?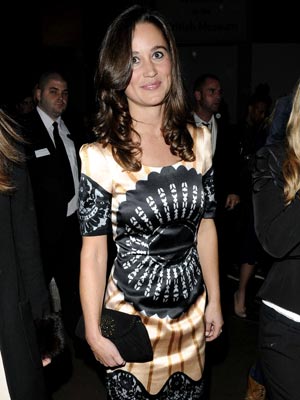 Pippa Middleton is said to be single after a year and a half
It looks as if Pippa Middleton's relationship with long-term boyfriend Alex Loudon could be off - again.
Kate's little sister, 28, is said to have broken-up with City broker Alex, 31, after a series of rows.
'She and Alex split briefly in the summer - but this time it's over,' claims a source.
'They are barely speaking.'
The pair have been together for a year and a half, but Alex is believed to have found it difficult to come to terms with Pippa's new sex symbol status after the Royal Wedding.
'Pippa tried to get over the split by spending last weekend with Wills and Kate at Balmoral,' the insider tells The Sun.
Pippa and Alex were last seen out together on 1 October at Boodles Boxing Ball in London.
SEE PICTURES Pippa Middleton dances at charity ball>>
Pippa Middleton wearing Dannii Minogue's label Project D to wedding>>
NEW PICTURES Tennis fan Pippa Middleton braves the rain in denim>>
SEE PICTURES Pippa Middleton stays fit with a run at the Blenheim Triathlon>>
Pippa Middleton enjoys a day at the French Open tennis tournament in Paris>>
MORE PICTURES Amazing facts about Kate Middleton - Prince William's wedding belle>>
NEW PICTURES Prince William revealed! Amazing facts about Kate Middleton's man>>
SEE PICTURES Kate Middleton and Prince William: Their love story in photos>>
ROYAL WEDDING GALLERY See the guests arrive for Prince William and Kate Middleton's special day>>