Monday 14 November 2011
Sandra Bullock and Keanu Reeves: A Hollywood love story 17 years in the making...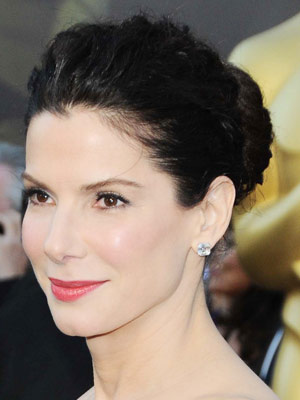 Sandra Bullock and Keanu Reeves both starred in the film Speed
Keanu Reeves
and
Sandra Bullock
have been close friends for years.
When Sandra split from cheating hubby Jesse James last year, Keanu was one of the few friends she let visit her at her Hollywood Hills home.

But after he was linked with a string of beauties, including Charlize Theron, and Sandra hooked up with Ryan Reynolds, they remained just friends.

However, for the past month our source says Sandra and Keanu, both 47, finally decided to give their romance a shot and have been sharing a series of intimate dates.

The cat was let out of the [Mulberry] bag at a dinner with friends at Craig's eaterie in Beverly Hills last month.

'Any friends who didn't know they were dating before that dinner certainly knew after,' says our source.

'Things were super- flirty between them. They spent most of the time politely ignoring everyone else and talking to each other.

'Keanu was making Sandra laugh and they were really hanging on everything the other one was saying.'

Move over Brangelina, it's time for Keandra!

The clues were always there.

Sandra on Keanu

Discussing Speed in 1994

'He's so suave and swashbuckling.'

'I can look him in the eye and feel I have a place there.

'He's a very dashing leading man.

Interview for The Lake House, 2006

'Every woman in America swoons over him.'
Interview on Japanese TV, 2006

'I sent him a lot of photos of myself in a bikini saying: "If you're patient, you can have this at the end of the film."'


Keanu on Sandra

During a 2006 TV interview

'We first met at the auditions for Speed and I thought: "Here's a girl with gumption, a feisty, pretty young thing."'

Talking in 2006
'Sandra's this energetic, wonderful, positive, talented person.
Read the full story about Sandra Bullock and Keanu Reeves in Now magazine dated 14 November 2011 - out now!
Sandra Bullock: I'm only getting 3 hours' sleep
Sandra Bullock: My personal life exploded but I'm so lucky
SEE VIDEO Scarlett Johansson and Sandra Bullock snog at MTV Movie Awards
Single Sandra Bullock: I still love Jesse
Sandra Bullock to make red carpet return at MTV Movie Awards