Tuesday 01 November 2011
One Direction's Zayn Malik has Twilight makeover for Halloween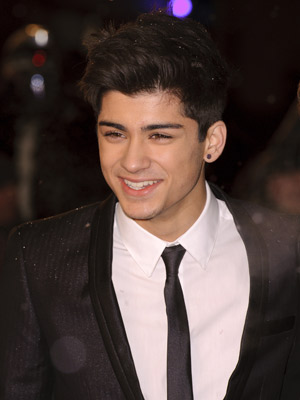 Zayn Malik originally auditioned for The X Factor as a solo artist
If like us you thought One Direction star Zayn Malik could never look scary, you're in for a shock.
Stuck for ideas on what to dress as for a Halloween party last night, the 18-year-old singer took to Twitter to ask his loyal 612,932 followers for help.
'What's everyone dressing up as tonight gve me some ideas :),' Zayn Tweeted.
Despite lots of suggestions including
Harry Styles a Power Ranger and even a moustache, Zayn decided to channel Robert Pattinson and transform himself into a creepy vampire.
'Think I'm gna go for a twilight look,' he adds.
We reckon guyliner is a good look, Zayn - but we're not totally sure about your ghostly white complexion!
SEE EXCLUSIVE VIDEO Teen Now meets One Direction>>
SEE VIDEO One Direction mobbed by screaming fans in London>>
NEW PICTURES One Direction promote new single What Makes You Beautiful on Radio 1>>
Beth Shearing