Tuesday 01 November 2011
OMG! Jennifer Aniston and Brad Pitt to reunite at the Oscars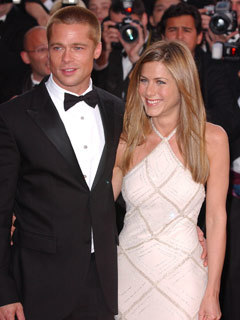 Brad Pitt and Jennifer Aniston split in 2005
They haven't been pictured side by side since their split in 2005, but now Brad Pitt and Jennifer Aniston are planning to make their first public appearance together - at the Oscars.
The former couple have been asked to present one of the gongs at next February's ceremony after their pal Brett Ratner landed the job of producing the show.
'They're both considering it,' a source tells Now.
'Brett knows that getting them on the podium together will make the ceremony the most talked about one ever.'
Before you get too excited, though, Angelina Jolie, 36, will also be there - and she won't be happy!
But Brad, 47, is prepared to risk her wrath as he's hoping the presenting gig will help mend his friendship with Jen, 42, following his disastrous interview with US magazine Parade in August, in which he branded her 'dull'.
'They hate the fact that the world thinks they're at war,' says our source.
'The only problem is that Ange will be furious. But Brad says that won't stop him.'
Read the full story about Jennifer Aniston, Brad Pitt and Angelina Jolie in Now magazine dated 7 November 2011 - out now!
SEE PICTURES Jennifer Aniston goes topless for perfume ad>>
SEE PICTURES Jennifer Aniston launches new fragrance in London>>
SEE PICTURES Brad Pitt and Angelina Jolie - a love story in photos>>