Monday 31 October 2011
Pippa Middleton to 'sign book deal'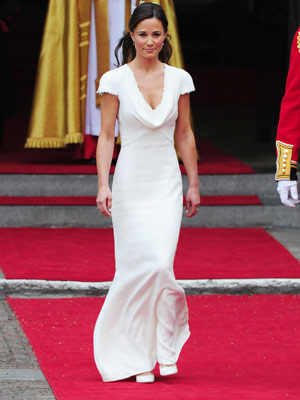 Pippa Middleton was sister Kate's Maid Of Honour in April
Pippa Middleton is close to signing a major book deal that could earn her up to £1million.
It's thought the 28-year-old is flogging a guide on how to throw the perfect party.
Pippa already edits a blog about children's bashes as part of her parents' company Party Pieces and she's planning to use her expertise to help wannabe event planners.
Literary agent David Godwin, 63, is said to be helping her secure a deal and she's already thought to have met with executives at HarperCollins twice.
It's hoped the book will be published in time for Christmas 2012.
'It's a private matter,' David tells The Mail On Sunday. 'I really can't comment.'
Pippa became an overnight star in April when she almost stole the show in a figure-hugging ivory gown as Maid Of Honour at 29-year-old sister Kate's Royal Wedding to Prince William.
NEW PICTURES Tennis fan Pippa Middleton braves the rain in denim>>
SEE PICTURES Pippa Middleton stays fit with a run at the Blenheim Triathlon>>
SEE PICTURES Pippa Middleton enjoys a day at the French Open tennis tournament in Paris>>
MORE PICTURES Amazing facts about Kate Middleton - Prince William's wedding belle>>
NEW PICTURES Prince William revealed! Amazing facts about Kate Middleton's man>>
SEE PICTURES Kate Middleton and Prince William: Their love story in photos>>
ROYAL WEDDING GALLERY See the guests arrive for Prince William and Kate Middleton's special day>