Friday 28 October 2011
Kim Kardashian's husband Kris Humphries gets kaught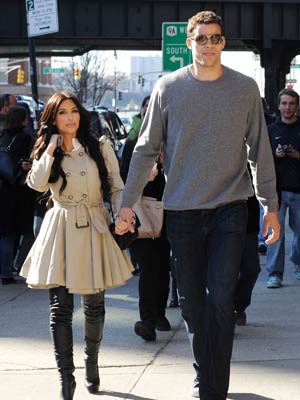 Kris Humphries married Kim Kardashian in August
They've only been wed two months, but Kim Kardashian and Kris Humphries are already facing a tabloid scandal.

The socialite was left distraught last week after it was alleged that her hubby, 26, had enjoyed lap dances from two college girls on a boys' weekend away in Miami.

The reports broke as Kim, 31, arrived back in the US after a trip to Dubai.

A US mag claims two students, known as Jill and Lauren, gave steamy dances to Kris in Miami's LIV club on 30 September.

Kim was at a charity gala in New York at the time.

An onlooker says: 'They started dancing in his lap.

'He did nothing to push them away.'

On the night, Jill Tweeted: 'Dancing on his lap. Best night of my life... He's so perfect.'

She added: 'SORRY KIM.'

Both girls admit they partied with Kris but have refused to comment further.
Read the full story about Kim Kardashian and Kris Humphries in Now magazine dated 31 October - out now!
SEE PICTURES The Kardashian family's life in pictures>>
SEE PICTURES Kim, Khloe and Kourtney Kardashian launch boutique>>
SEE PICTURES Kim Kardashian and her family unveil their Redbook cover>>
SEE PICTURES Celebrity brothers and sisters, featuring the Kardashian sisters>>