Friday 21 October 2011
Kate and Pippa Middleton both dazzle in red - but who's the Dress Queen?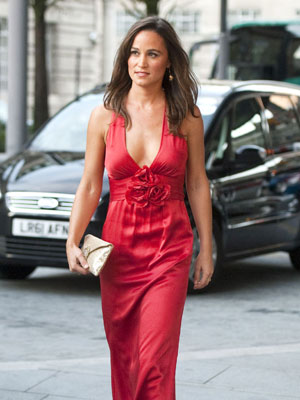 Pippa Middleton chooses Alice Temperley for the Boodles Boxing Ball
Kate Middleton and little sister Pippa have both been stepping out in hot red dresses.
Pippa, 28, led the way in her low-cut Temperley gown at the Boodles Boxing Ball earlier this month, completing her look with a pair of metallic shoes and matching clutch.
And the Duchess of Cambridge must have liked what she saw.
Last week, Kate chose a plunging long-sleeved Beulah gown of the same hue for the 100 Women In Hedge Funds charity ball at St James's Palace.
The 29-year-old, who attended the event with husband Prince William, 29, also carried a metallic clutch like her sister.
Other celebrities to choose this season's favourite colour include Beyoncé, Geri Halliwell and Kate Winslet.
SEE PICTURE Kate Middleton in red Beulah dress>>
SEE PICTURES Kate Middleton Style File>>
SEE PICTURES Pippa Middleton Style File>>
NEW PICTURES Kate Middleton and Prince William visit riot victims in Birmingham>>
NEW PICTURES Kate Middleton and Prince William dazzle in LA>>
NEW PICTURES See Prince William and Kate Middleton on their visit to Prince Edward Island in Canada>>
NEW PICTURES Kate Middleton dazzles in ARK event>>
Pippa Middleton wearing Dannii Minogue's label Project D to wedding
NEW PICTURES Tennis fan Pippa Middleton braves the rain in denim>>
SEE PICTURES Pippa Middleton stays fit with a run at the Blenheim Triathlon>>
Pippa Middleton enjoys a day at the French Open tennis tournament in Paris>>
MORE PICTURES Amazing facts about Kate Middleton - Prince William's wedding belle>>
NEW PICTURES Prince William revealed! Amazing facts about Kate Middleton's man>>
SEE PICTURES Kate Middleton and Prince William: Their love story in photos>>
ROYAL WEDDING GALLERY See the guests arrive for Prince William and Kate Middleton's special day>>
Esme Riley