Friday 14 October 2011
EXCLUSIVE Dannii Minogue gives Pippa Middleton a makeover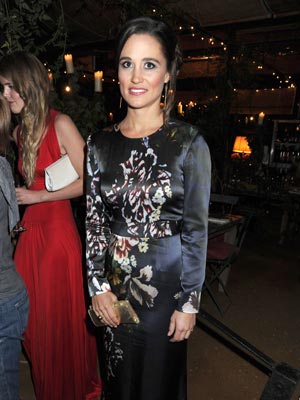 Pippa Middleton wears Dannii Minogue's design for the Project D label
Dannii Minogue's accession to fashion royalty's now complete thanks to Pippa Middleton.
Kate Middleton's little sister chose a slinky flower print maxi dress by Dannii Minogue and Tabitha Somerset Webb's label Project D for the Too Many Women Autumn Dinner & All Saints Party this week.
Pippa - who's worn British designers Alexander McQueen and Temperley in the past - chose a red hot low-cut gown for the Boodles Charity boxing night but chose a far more demure high-necked number for the Breakthrough Breast Cancer event.
She totally outshone Sienna Miller who attended the same party in a Matthew Williamson Spring/Summer 2011 feather-strewn frock.
This is the second time Pippa's worn one of Dannii Minogue and Tabitha Somerset Webb's dresses. She chose another floral frock for a wedding in September.
Pippa's Project D Elle Botanical maxi dress is 100% silk with built-in shoulder pads and a concealed zip fastening.
Money no object? Buy Pippa Middleton's exact dress on My-Wardrobe.com for the princely sum of £623.
Shop online for Pippa Middleton inspired floral maxi dresses...
More Wallis...
NEW PICTURES Tennis fan Pippa Middleton braves the rain in denim>>
SEE PICTURES Pippa Middleton stays fit with a run at the Blenheim Triathlon>>
Pippa Middleton enjoys a day at the French Open tennis tournament in Paris>>
MORE PICTURES Amazing facts about Kate Middleton - Prince William's wedding belle>>
NEW PICTURES Prince William revealed! Amazing facts about Kate Middleton's man>>
SEE PICTURES Kate Middleton and Prince William: Their love story in photos>>
ROYAL WEDDING GALLERY See the guests arrive for Prince William and Kate Middleton's special day>>
Alison Tay