Wednesday 12 October 2011
Bodybuilder Jodie Marsh: I've never know Katie Price to be pleasant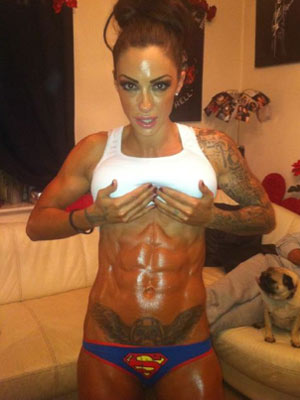 Jodie Marsh hasn't grown to like Katie Price
There's still no love lost between
Jodie Marsh
and
Katie Price
, with the born again bodybuilder proving she's as fierce as she looks - if her latest comments about
Jordan
are anything to go by.
Jodie, 32, wishes everyone would realise just how boring 34-year-old Katie is.
'I've never know her to be pleasant! I think that when I got famous, she felt threatened by me because before I came along, she was the only big name in glamour modelling,' says Jodie.
'If I really wanted to be like her, I'd marry a footballer, have 20 kids, then marry another footballer, followed by a boxer, followed by a drag queen!'
The Essex girl thinks Katie's fans are naive for believing all her hype.
'Every move Katie makes is calculated and people are silly to still be buying into it,' Jodie reckons.
'I could do that all day long too to make money but I don't. That's the difference between me and her.'
Over to you, Katie. DING DING.
NEW PICTURES Stars react to Jodie Marsh's shock bodybuilder transformation on Twitter>>
SHOCK NEW PICTURES! Bodybuilder Jodie Marsh posts near-naked photos on Twitter>>
NEW PICTURES Jodie Marsh - from glamour model to bodybuilder>>
SEE PICTURES Jodie Marsh in The Celebrity Boob Job>>
SEE PICTURES Jordan and Peter Andre: A love story in pictures>>
SEE PICTURES Is Alex Reid the new Peter Andre?>>
SEE PHOTOS Katie Price and Leandro Penna: a love story in pictures>>
SEE PICTURES Katie Price and Alex Reid's love story>>
SEE PICTURES Katie Price launches iPod range>>
SEE PICTURES The changing face of Katie Price>>
SEE PICTURES Katie Price's hen night>>
Catherine Wylie