Thursday 29 September 2011
Oops! Jennifer Aniston makes a style boob in see-through white top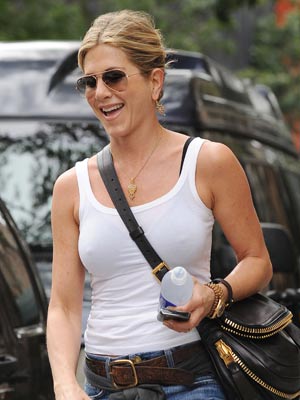 Jennifer Aniston lives with Justin Theroux
Jennifer Aniston stepped out in New York yesterday in a top that was stretched so tightly over her boobs, it showed off her nipples.
The actress, who's loved up with Justin Theroux, 40, wore the white vest with a black bra underneath - but it wasn't serving much of a purpose.
Jen, 42, looked in good spirits as she pounded the pavement, despite recent reports that her ex-husband Brad Pitt, 47, disapproves of her new man.
'He feels Justin's a bad influence because of his party lifestyle and that he moved on so quickly from Heidi Bivens [his girlfriend of 14 years],' a mutual friend of the former couple tells us.
'Brad worries that if Justin did that to her, he could easily do the same to Jen.'
PHOTO GALLERY Celebrity nipple attack - boobs on the loose>>
SEE PICTURES Jennifer Aniston goes topless for perfume ad>>
NEW PICTURES Jennifer Aniston launches new fragrance in London>>
SEE PICTURES Jennifer Aniston - lonely at 41>>
NEW PICTURES Jennifer Aniston shoots Go With It>>
PICTURES Angelina Jolie and other celebrities' tattoos>>
PICTURES Brad Pitt and Angelina Jolie's family holiday in Venice>>
SEE PICTURES Brad Pitt and Angelina Jolie's loved-up date at the Super Bowl>>
SEE PICTURES Angelina Jolie and Brad Pitt nuzzle up at Cannes>>
SEE PICTURES Brad Pitt and Angelina Jolie - a love story in photos>>
Esme Riley