Wednesday 28 September 2011
Shane Warne: Liz Hurley is amazing and sexy in Gossip Girl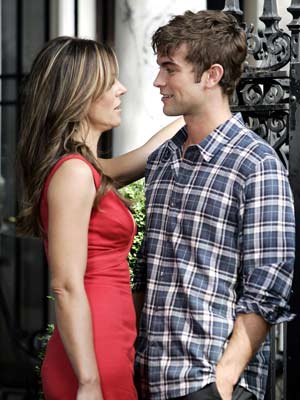 Liz Hurley plays seductive Diana Payne alongside Chace Crawford in Gossip Girl
Liz Hurley returned to screens for the first time in 7 years last night as sexy businesswoman Diana Payne in Gossip Girl.
The show's 5th season kicked off in America and Liz's character was seen seducing the younger Nate Archibald - played by gorgeous Chace Crawford - in little more than a leopard print leotard.
'First episode of Gossip Girl on the East coast in half an hour. Haven't seen it myself yet. Excited!' Liz, 46, Tweeted yesterday.
Lucky Liz has her own real-life toy boy in the form of 42-year-old Aussie cricketer Shane Warne, who obviously approved of her saucy scenes.
'Just watched 1st episode of GossipGirl Thought show was great & now know why my 14 y.o daughter Brooke likes it EH was amazing & very sexy,' he Tweeted.
Liz soon replied: '@warne888 Thank you for your lovely, unbiased comments xxx.'
SEE PICTURES Liz Hurley attends the Gnomeo & Juliet film premiere in London>>
SEE PICTURES Gossip Girl: Behind the scenes of season 2>>
SEE PICTURES Behind the scenes at Gossip Girl 2010>>
Esme Riley