Monday 19 September 2011
Prince Harry celebrates 27th birthday with beer and burger at bowling alley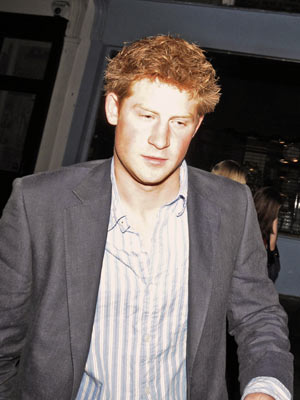 Prince Harry is currently single
Prince Harry went bowling on Friday night at the All Star Lanes to celebrate turning 27.
After spending his birthday on Thursday doing Apache helicopter training at RAF Wattisham airfield, Harry relaxed with friends and enjoyed a few beers and a burger in Bayswater.
'Harry didn't hire the private area - he just took a lane next to everyone else, happily posing for photographs when asked,' an onlooker tells the Daily Mail. 'He was dressed down in jeans and a linen shirt.
'He and his friends were very competitive.'
Harry's more often seen on nights out in posh clubs, but it seems he fancied something more low-key after a summer of partying.
He recently got in trouble with Kate Middleton's sister Pippa, 28, after he fell into a nightclub pool in Croatia.
'Pippa texted him to suggest that he starts acting "less like a teenage chav, more like a real man",' a source tells us.
NEW PICTURES Prince Harry completes charity day trade>>
PHOTO GALLERY Prince Harry's former girl Florence Brudenell-Bruce models lingerie>>
NEW PICTURES Tennis fan Pippa Middleton braves the rain in denim>>
SEE PICTURES Pippa Middleton stays fit with a run at the Blenheim Triathlon>>
Pippa Middleton enjoys a day at the French Open tennis tournament in Paris>>
MORE PICTURES Amazing facts about Kate Middleton - Prince William's wedding belle>>
NEW PICTURES Prince William revealed! Amazing facts about Kate Middleton's man>>
SEE PICTURES Kate Middleton and Prince William: Their love story in photos>>
ROYAL WEDDING GALLERY See the guests arrive for Prince William and Kate Middleton's special day>>
NEW PICTURES Kate Middleton wears elegant lace Sarah Burton dress for her wedding to Prince William>>
NEW PICTURES Kate Middleton and Prince William are married at last>>
NEW PICTURES Kate Middleton and family arrive at London hotel ahead of Royal Wedding to Prince William>>
PICTURE SPECIAL Kate Middleton and Prince William appear together at first public engagement>>
Esme Riley