Tuesday 13 September 2011
Brad Pitt doesn't think new man Justin Theroux is good enough for Jennifer Aniston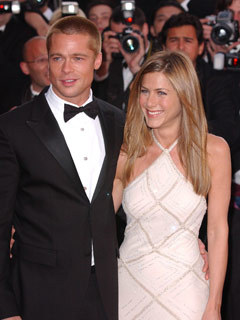 Brad Pitt is less than impressed with Jennifer Aniston's new love Justin Theroux
He's juggling looking after 
six kids with a demanding girlfriend and filming his latest movie, so we're amazed that Brad Pitt, 47, has time to care what his ex is up to.
But, 
in true unfinished business style, Brad's stuck his nose into the love life of ex-wife Jennifer Aniston, 42, telling mutual friends that he thinks 
her new bloke Justin Theroux, 40, isn't 
good enough for her.
'Brad thinks Jen needs someone who isn't as moody and mysterious as Justin,' 
a mutual friend of the former couple tells Now.
'He's always wanted to 
see Jen end up with her own "happily ever after", partly due 
to his guilt over ending their marriage.
'But he doesn't like Justin and has made his feelings clear to anyone who's asked him.'
Read the full story about Brad Pitt and Jennifer Aniston in Now magazine dated 19 September 2011 - out now!
PICTURES Angelina Jolie and other celebrities' tattoos>>
PICTURES Brad Pitt and Angelina Jolie's family holiday in Venice>>
SEE PICTURES Brad Pitt and Angelina Jolie's loved-up date at the Super Bowl>>
SEE PICTURES Angelina Jolie and Brad Pitt nuzzle up at Cannes>>
SEE PICTURES Brad Pitt and Angelina Jolie - a love story in photos>>