Monday 12 September 2011
Twilight's Robert Pattinson takes girlfriend Kristen Stewart on romantic date to Barnes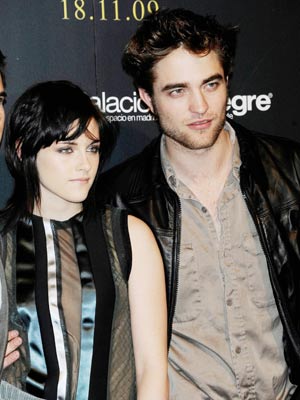 Kristen Stewart and Robert Pattinson met filming Twilight
Kristen Stewart was taken on a romantic tour of Barnes by Robert Pattinson
SEE PICTURES Robert Pattinson and Kristen Stewart's love story in pictures>> because he wanted to show her his home turf.
Rob, 25, surprised 21-year-old Kristen - who's been shooting new film Snow White in London - with a trip to his primary school, old drama club and the pub where he used to chill out with friends.

'It was really sweet,' a source tells The Sun, 'Rob wanted to show Kristen everything about where he'd grown up.'

But being Hollywood stars the pair couldn't just stroll down the road hand-in-hand like a regular couple - they had to don wigs to make sure they weren't spotted!

We'd be more than happy to wear a wig if it meant spending a day with you, Rob.
SEE PICTURES Robert Pattinson and Kristen Stewart's love story in pictures>>
SEE PICTURES Robert Pattinson and Kristen
Stewart kiss at MTV Movie Awards>>

SEE PICTURES Robert Pattinson and Kristen Stewart are so in love at friend's wedding>>
See Video Twilight cleans up at the MTV Movie Awards>>
SEE PICTURES The rise of Robert Pattinson>>
SEE PICTURES Robert Pattinson stars in Twilight - an international phenomenon>>
SEE PICTURES Robert Pattinson mobbed by fans on Remember Me set>>
SEE PICTURES Robert Pattinson and Kristen Stewart are so in love at friend's wedding>>