Saturday 10 September 2011
Daybreak's Christine Bleakley goes back to school in mini skirt and knee-high socks!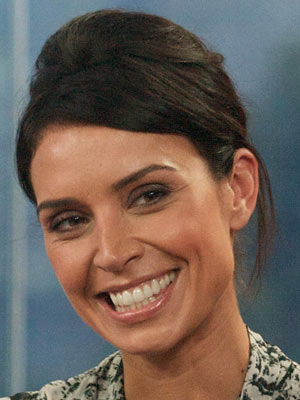 Christine presents breakfast TV show Daybreak
Don't worry Frank Lampard, your fiancée isn't really a schoolgirl.

Christine Bleakley, 32, has slipped back into uniform (yes, it still fits!) in order to promote Daybreak's Back To School week.

And Christine has only good things to say about Bloomfield Collegiate girls' grammar school in East Belfast.
'I have seven years of happy memories of this school; the smells and sounds are exactly the same as I remember them, as is the real caring family atmosphere,' she tells the Daily Mail.

'It is a warm and happy place to be, exactly as I remember it.'

And how do the teachers feel about Christine?

'I remember Christine as an outstanding pupil and Head Girl, who loved English and art and regrettably hated my subject, chemistry,' says former head teacher Dr David Neill.
'We are very proud of her achievements and her warm personality and community spirit demonstrates the ethos of the school.'
NEW PICTURES Christine Bleakley and Frank Lampard holiday in Vegas>>
EXCLUSIVE PICTURES Christine Bleakley and Frank Lampard work the red carpet at the National Movie Awards>>
NEW PICTURES Christine Bleakley and Frank Lampard film Celebrity Juice>>

SEE PICTURES Frank Lampard and Christine Bleakley holiday in Sardinia>>
SEE PICTURES Christine Bleakley and Frank Lampard get the giggles>>
Maria Chiorando