Monday 12 September 2011
LeAnn Rimes: Stop crazy 'shrinking' claims - I love my food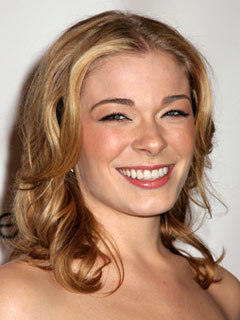 LeAnn Rimes is holidaying in Malibu with actor husband Eddie Cibrian
Country singerLeAnn Rimes 
is loved-up with second husband Eddie Cibrian, 38, but the 29-year-old isn't ready to start a family.
In fact, she's looking slimmer than ever and wants to stay super-skinny.
'[Eddie] thinks she's 
a brilliant stepmom to his sons from his previous marriage so would like nothing more than three or four kids with her, but she's desperate to stay skinny after working so hard to get to her ideal shape,' reveals Now's source.
A concerned pal adds: 'Her waist's down to a tiny 23in but 
she loves it.
'Eddie thinks she needs to put on weight, but she's in denial.
'He's told a friend he thinks it's because she's obsessed with staying a size 0.'
We're not the only ones to 
have noticed her drastic weight loss.
Last week, E! presenter Giuliana Rancic, 36, hit out, saying that LeAnn 'looks a little thin right now'.
LeAnn slammed the comments on Twitter, challenging her to share dinner: 'You can see just how much I eat and maybe put a stop to this crazy "shrinking" once and for all.'
Oh dear, it's handbags at dawn!
Read the full story about LeAnn Rimes in Now magazine dated 12 September 2011 - out now!