Tuesday 30 August 2011
Prince Harry and Chelsy Davy - the truth about his split with Florence Brudenell-Bruce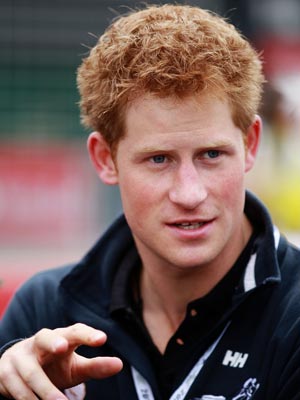 Prince Harry and Chelsy Day split in May
Prince Harry is now back on the market after splitting with lingerie model Florence Flee' Brudenell-Bruce, 25.
The couple claimed that Harry, 26, was too busy with his Apache helicopter training for a full-time girlfriend.
But royal insiders tell Now the real reason they broke up was Harry's jealousy over Chelsy Davy's rumoured new man, 29-year-old property developer Taylor McWilliams - known as McWilly' - a close pal of Harry's.
Harry found out that Chelsy was seeing Taylor and he's been texting her,' reveals our source.
He's still very close to her, so he sent her a few messages telling her she could do better.
'It was partly tongue in cheek, but secretly he didn't like seeing "his Chelsy" with another man - especially his friend.
'When Flee found out about the texts she was livid.'
Read the full story about Prince Harry in Now magazine dated 5 September - out now!
PHOTO GALLERY Prince Harry's former girl Florence Brudenell-Bruce models lingerie>>
NEW PICTURES Tennis fan Pippa Middleton braves the rain in denim>>
SEE PICTURES Pippa Middleton stays fit with a run at the Blenheim Triathlon>>
Pippa Middleton enjoys a day at the French Open tennis tournament in Paris>>
MORE PICTURES Amazing facts about Kate Middleton - Prince William's wedding belle>>
NEW PICTURES Prince William revealed! Amazing facts about Kate Middleton's man>>
SEE PICTURES Kate Middleton and Prince William: Their love story in photos>>
ROYAL WEDDING GALLERY See the guests arrive for Prince William and Kate Middleton's special day>>
NEW PICTURES Kate Middleton wears elegant lace Sarah Burton dress for her wedding to Prince William>>
NEW PICTURES Kate Middleton and Prince William are married at last>>
NEW PICTURES Kate Middleton and family arrive at London hotel ahead of Royal Wedding to Prince William>>
PICTURE SPECIAL Kate Middleton and Prince William appear together at first public engagement>>