Tuesday 23 August 2011
OMG! Is David Beckham losing his hair?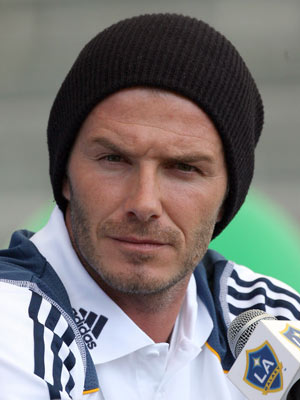 Was David Beckham trying to hide something with a hat at a recent LA Galaxy training session?
David Beckham has been snapped with what appears to be the start of a bald patch at the back of his head.
The LA Galaxy star, who's tried lots of interesting hairstyles over the years, was snapped out and about with baby daughter Harper in Los Angeles on Monday.
But in a very grainy picture, it's difficult to see what's really going on.
'As a woman I love to look at David Beckham's hair and I was a bit shocked to see this,' says award-winning hairdresser Karine Jackson.

'We have seen photographs of him in the ocean recently and if he was going bald you would have noticed it before.'

David, 36, may not be losing his locks after all.

'A particular bald patch is very rare in male pattern baldness so it could be a trick of the light,' Karine tells the Daily Mail.

'Alternatively, it could be a temporary loss caused by, for example, bruising from a football match.'
SEE PICTURES Celebrity births 2011>>
SEE PICTURES Victoria and David Beckham: A love story in pictures>>
SEE PICTURES Victoria and David Beckham go out for dinner with the Ramsays>>
SEE PICTURES Pregnant Victoria Beckham and husband David leave New York hotel>>
SEE PICTURES Victoria and David Beckham launch new fragrance Signature in New York>>
SEE PICTURES David Beckham's changing hairstyles>>
SEE PICTURES Victoria and David Beckham: A love story in pictures>>
SEE PICTURES Victoria and David Beckham go out for dinner with the Ramsays>>
SEE PICTURES Pregnant Victoria Beckham and husband David leave New York hotel>>
SEE PICTURES Victoria and David Beckham launch new fragrance Signature in New York>>
SEE PICTURES David Beckham's changing hairstyles>>