Saturday 23 July 2011
Kristen Stewart's Tortilla Soup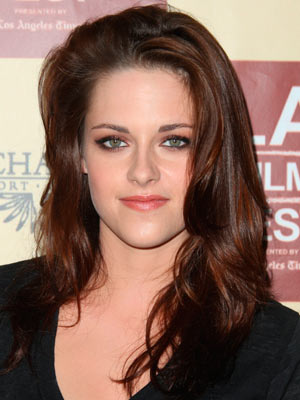 Kristen Stewart is a keen cook
Twilight star Kristen Stewart loves to watch the cooking channel when she's taking a break from filming.
'She has a TV in the make-up trailer - it's her only diva-ish behaviour,' reveals Robert Pattinson, who enjoys what Kristen cooks up.
Actor Garrett Hedlund is also a fan of Kristen's culinary skills.
'You got to try the tortilla soup!' Garrett raved to MTV. 'It's incredible. She's honed it.'
Here's Kristen Stewart's Tortilla Soup recipe
• 2 tbsp vegetable oil
• 1 can diced tomatoes
• 1 yellow onion, diced
• 2 jalapeño peppers, chopped
• 2 bell peppers, chopped
• 2 cloves garlic, minced
• 3 tbsp ground cumin
• 4 cups chicken stock
• 2 tsp paprika
• 2 tsp garlic salt
• 2 tbsp chili powder
• 1 avocado, diced
• 1 cup shredded cheddar cheese
• Fresh coriander, chopped
• 2 flour tortillas
• Lime wedges
Directions
• Heat the oil in a large pot over medium-high heat.
• Cook garlic, onion and cumin for a few minutes, until the onions are translucent.
• Add bell peppers, cook until tender - 2 to 4 minutes, stirring frequently.
• Stir in stock, tomatoes and jalapeños.
• Bring to a boil, then reduce heat, cover and simmer for 20 to 30 minutes, stirring periodically.
• Cut tortillas into 2-inch wide strips, grill for a few minutes until toasted.
• Serve the soup in bowls and top with condiments.