Saturday 09 July 2011
Leonardo DiCaprio's new squeeze Blake Lively eats 5 meals a day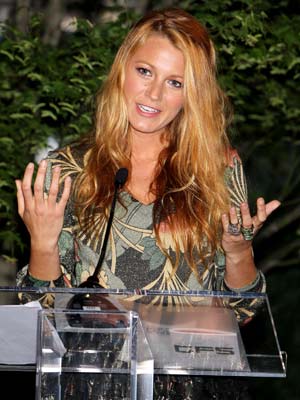 Blake Lively has been working out four times a week
Gossip Girl star Blake Lively has lost a stone, going from 9½st to 8½st, dropping two dress sizes to a slim size 8.
The 5ft 10in actress has been training with fitness expert Bobby Strom, who's helped her get results fast.
Blake, 23, went from eating calorie-laden Greek and Mexican food to having five small high-protein meals a day and is said to have seen a change to her body in just a few weeks.
'Eating little and often means she's never hungry and her metabolism is at its optimum level,' says Bobby.
'If she wants chocolate cake, I tell her to have a few bites.
'If you satisfy the craving, you're less likely to binge, get depressed and lack motivation to work out.'
Blake has gone from doing no exercise to doing two 90-minute sessions of intense cardio as well as yoga and pilates classes each week.
'We put on loud music so that it's fun and we mix up the workouts, working several muscle groups at once,' says Bobby, who wasn't surprised how quickly she got results.
'If you get rid of empty calories like fizzy drinks and frothy lattes and work out four times a week, you'll see a difference in just a few weeks.
'Now Blake loves working out because she feels as if she's accomplished something.
'It's really given her confidence.'
With legs like hers - and Leonardo DiCaprio on her arm - we'd be feeling pretty confident, too.
Read the full story about Blake Lively in Now magazine dated 11 July 2011 - out now!
SEE PICTURES Gossip Girl - behind the scenes of season 2>>
SEE PICTURE Taylor Momsen models Madonna's clothing range here>>
SEE PICTURES Gossip Girl Taylor Momsen's Style File>>
SEE PICTURES Gossip Girl's Taylor Momsen models for New Look>>