Wednesday 06 July 2011
Cristiano Ronaldo: I was expelled from school for throwing a chair at the teacher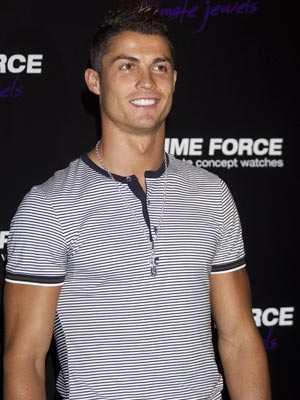 Cristiano Ronaldo is dad to Cristiano Junior
Real Madrid star Cristiano Ronaldo was popular with other students at school - but not with the teachers.
'I was not thick but I was not interested in school,' he admits. 'I was expelled after I threw a chair at the teacher.
'He disrespected me.'
Cristiano's mum Dolores decided her son should focus entirely on football and it paid off.
The Real Madrid star, 26, now earns £400,000 a week.
'When I got to 14 I felt I had the potential. I thought I was maybe good enough at that time to play semi-professionally,' the soccer star tells the Sunday Mirror.
'It was not until 22 when I was with Manchester United that I started to believe I was the best.
'I'm determined, I'm strong, very quick and I'm very, very professional.'

SEE PICTURES Cristiano Ronaldo and Irina Shayk spend the day with Cristiano Jr>>
NEW PICTURES Cristiano Ronaldo and Irina Shayk in Spain>>
SEE PICTURES Cristiano Ronaldo strips off for first Armani campaign>>
SEE PICTURES Cristiano Ronaldo - through the years>>

SEE PICTURES Cristiano Ronaldo and Nereida Gallardo's romantic holiday>>
SEE PICTURES Cheryl and Ashley Cole: The story so far>>
CELEBRITY HAIR Cheryl Cole: From corn rows to curls>>
SEE PICTURES The life of Cheryl Cole>>
SEE PICTURES The photos of Paul Abdul and Cheryl Cole Simon Cowell didn't want you to see>>
NEW PICTURES Cheryl Cole impresses US in sexy mini dress>>
MORE PICTURES Cheryl Cole's sexy black backless dress shows off new tattoo at The Brit Awards>>
MORE PHOTOS See all the photos of Cheryl Cole looking red hot at the Elle Style Awards 2011>>
SEE PICTURES Stars arrive at Simon Cowell's 50th birthday party>>
NEW PICTURES Cheryl Cole wears nude dress to meet Prince Charles>>
NEW PICTURES Cheryl Cole shows off new hair and image in LA for X Factor US>>
SEE PICTURES Cheryl Cole turns into a ballerina for new music video here>>
FASHION GALLERY SPECIAL Cheryl Cole's fashion history - the highs and the lows>>
Esme Riley