Wednesday 29 June 2011
PICTURE Pippa Middleton and boyfriend Alex Loudon snapped together for the first time since Royal Wedding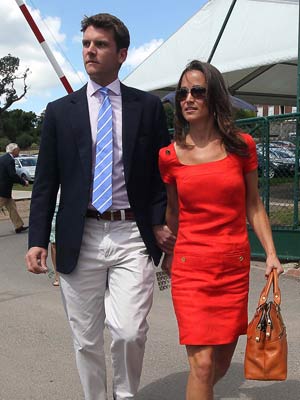 Alex Loudon and Pippa Middleton visit Wimbledon
Pippa Middleton and boyfriend Alex Loudon put on a show of solidarity at Wimbledon today.
The pair were rumoured to have gone their separate ways after Pippa was snapped in Madrid with ex-boyfriend George Percy.
But today Kate's little sister, wearing a striking red Hobbs NW3 mini dress and tan heels, stepped out with old Etonian financier Alex for the first time since Prince William and Kate Middleton's Royal Wedding in April.
Alex, 30, put a protective hand over his girlfriend's arm as he and Pippa, 27, made their way to Wimbledon's Centre Court.
After dating for over a year, it t looks as if the loved-up couple could soon be following Kate and Wills up the aisle.
'Pippa's very into Alex,' a source tells The Mail On Sunday.
'Alex is the nicest chap you could meet. He's incredibly sweet, loyal and adores Pippa.
'But they make a point of seeing each other very privately and don't go to flash places.'
NEW PICTURES Pippa Middleton and Alex Loudon go to Wimbledon>>
NEW PICTURES Pippa Middleton takes part in Highland Cross duathlon challenge 2011>>
SEE PICTURES Tennis fan Pippa Middleton braves the rain in denim>>
SEE PICTURES Pippa Middleton stays fit with a run at the Blenheim Triathlon>>
Pippa Middleton enjoys a day at the French Open tennis tournament in Paris>>
MORE PICTURES Amazing facts about Kate Middleton - Prince William's wedding belle>>
SEE PICTURES Kate Middleton and Prince William: Their love story in photos>>
ROYAL WEDDING GALLERY See the guests arrive for Prince William and Kate Middleton's special day>>
Esme Riley