Wednesday 29 June 2011
Aimee Teegarden: Make your prom fun!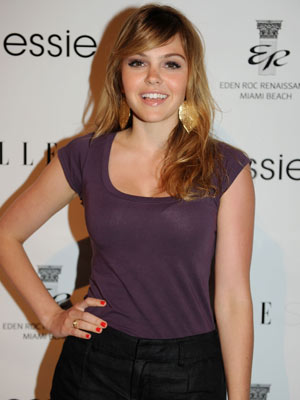 Aimee Teegarden stars in Disney's new high school movie Prom
You were in Scream 4 before Prom - slightly different films?
I actually filmed Prom first, even though Scream 4 came out first. Prom is a classic teen film that's appropriate for the whole family but realistic and relatable to teenagers.
Then Scream 4 gave me the opportunity to work on an iconic franchise and with Wes Craven, so that was fun.
Tell us about your character Nova.
She's very book smart and a politician in the making. She's Miss Goody Two-Shoes, a bit of a teacher's pet, but has good intentions and tries to make the world a better place for everyone.
Do you wish you had gone to college?
You know, I had an amazing opportunity presented to me at a young age and I was determined that I wanted acting to be my career, and I got very very lucky.
Sometimes there's a feeling you missed out on something, but I think everyone has that no matter what path you choose.
You only have one life to live and you should prioritise what you want from it. I wouldn't change my career for the world.
Proms are a big deal for girls. Do you think there's pressure to look good?
Sort of. A lot of it is the pressure girls put on themselves trying to fit in or trying to be something they're not.
But in reality there is no normal, nobody is perfect.
Your prom should be something that's fun so you can look back and have fond memories, not worry that your make-up wasn't right or that you had the wrong-coloured dress!
Read the full interview with Aimee Teegarden in Teen Now magazine dated June/July 2011 - on sale now!