Tuesday 28 June 2011
Austin Butler: Have a dream and follow your heart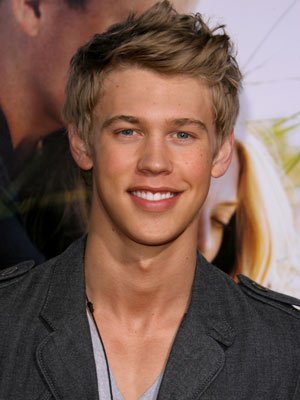 Austin Butler co-stars with Ashley Tisdale in Sharpay's Fabulous Adventure
As
Sharpay's Fabulous Adventure
gets set to hit the shops on
Disney
DVD, we catch up with
Ashley Tisdale's
super cute co-star, 19- year-old
Austin Butler
.
What was it like working with Ashley on Sharpay's Fabulous Adventure?
Ashley's great! We actually first met in New Zealand when she had just finished filming High School Musical, and she invited a group of us to sing karaoke in her trailer!
We also worked together three years ago on the movie Aliens In The Attic. We had a blast!
She's forever singing and dancing, even after the cameras have stopped rolling. We stayed in touch after making the film, and have remained friends ever since.
Who do you play in this movie?
I play Peyton Leverett, a film student shooting his first piece and looking for a unique story.
He comes across Sharpay, this vision in pink trying to make it as a Broadway star, and is fascinated by her 'fish out of water' tale.
The film has a really nice message to follow your dreams and never stop believing in yourself.
How did you get into acting?
I was scouted at the age of 10 by a Hollywood agent. I was a really shy, geeky-looking thing, and started in the industry by doing 'extra' work on films.
I would walk around the sets in between takes to familiarise myself, and slowly but surely I got a taste for acting and decided I wanted to take centre stage.
So you're naturally quite shy?
Totally - for most of my early teens I was submerged in this shy feeling, and acting really helped build my confidence.
It taught me to be tough - you have to be to survive the audition process! It's all about self-belief, and being driven towards a goal you really want to succeed in.
I think it's important to have a dream and to follow your heart.
Are you single?
I am indeed and looking for love...always looking for love!
What do you think about English girls?
I love English girls! I adore all their different accents. Who knows, I could find a British girlfriend on my travels!
Read the full interview with Austin Butler in Teen Now Magazine dated June /July 2011 - out now!