Thursday 16 June 2011
Kate Middleton: I'll decide how I dress for US and Canada tour with Wills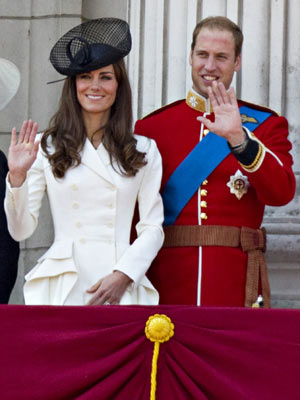 Kate Middleton and Prince William leave for Canada on 30 June
Kate Middleton doesn't want to be seen as a 'clothes horse' and won't be recruiting a housekeeper/dresser to help her impress American fans.
The Duchess of Cambridge and husband Prince William leave for the US at the end of the month and though Kate will travel with her own hairdresser, she'll be her own stylist.
Kate feels 'perfectly happy and confident' choosing her own outfits for her royal duties, sources tell the Daily Mail.
While Kate, 29, sees the role of a housekeeper/dresser as a 'waste of money', the couple are to travel with a team of 7, including the Duchess's hairdresser James Pryce, an adviser, 2 press secretaries and 2 private secretaries to ensure royal protocol is followed.
Wills, 28, and Kate were expected to meet up with LA-based David and Victoria Beckham in July but have reportedly been advised to stick to their official duties instead.
'It is important that William and Kate set the right tone,' a close source told The Sunday People.
'It
would be an absolute disaster if their time in Los Angeles saw them
­becoming wrapped up in some kind of Hollywood celebrity publicity
whirlwind.'
NEW PICTURES Kate Middleton dazzles in ARK event>>
NEW PICTURES Prince William and Kate Middleton attend Epsom Derby 2011>>
NEW PICTURES Royal Wedding crowd celebrate Kate Middleton and Prince William's big day>>
ROYAL WEDDING GALLERY See the guests arrive for Prince William and Kate Middleton's special day>>
NEW PICTURES Kate Middleton wears elegant lace Sarah Burton dress for her wedding to Prince William>>
NEW PICTURES Kate Middleton and Prince William are married at last>>
NEW PICTURES Kate Middleton and family arrive at London hotel ahead of Royal Wedding to Prince William>>
NEW PICTURES Prince William and Kate Middleton visit Lancashire before the Royal Wedding>>
MORE PICTURES Amazing facts about Kate Middleton - Prince William's wedding belle>>
NEW PICTURES Prince William revealed! Amazing facts about Kate Middleton's man>>
SEE PICTURES Kate Middleton and Prince William: Their love story in photos>>
PHOTO GALLERY Kate Middleton watches Prince William play polo>>
PICTURE SPECIAL Kate Middleton and Prince William appear together at first public engagement>>
NEW PICTURES Kate Middleton and Prince William attend wedding>>
PHOTO GALLERY Kate Middleton gets into Christmas spirit at charity do>>
Esme Riley