Thursday 09 June 2011
OMG! Was Prince William's bride Kate Middleton's phone hacked?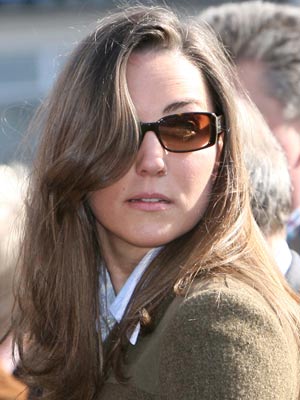 Kate Middleton married Prince William on 29 April
Kate Middleton's name is the latest 'celebrity' to be added to a list of those whose phones may have been hacked.
Former Prime Minister Tony Blair is also one of the alleged victims of a private investigator who worked for various tabloid publications.
The Duchess of Cambridge is believed to have been targeted when she was at university dating Prince William in 2005 and 2006 and the Metropolitan police are being urged to expand their phone-hacking inquiry,
Sienna Miller has already accepted £100,000 damages from the News of the World and other alleged victims include Eric Clapton, Mick Jagger, George Michael, Linford Christie, Gary Lineker, Richard Madeley and Judy Finnigan.
Operation Weeting has been investigating newspaper phone hacking since January.
[We] can confirm that since January 2011 the MPS [Metropolitan police service] has received a number of allegations regarding breach of privacy which fall outside the remit of Operation Weeting,' a police spokesman tells The Guardian.
'These allegations are currently being considered.'
SEE PICTURES Kate Middleton wears elegant lace Sarah Burton dress for her wedding to Prince William>>
NEW PICTURES Prince William and Kate Middleton attend Epsom Derby 2011>>
NEW PICTURES Royal Wedding crowd celebrate Kate Middleton and Prince William's big day>>
ROYAL WEDDING GALLERY See the guests arrive for Prince William and Kate Middleton's special day>>
NEW PICTURES Kate Middleton and Prince William are married at last>>
NEW PICTURES Kate Middleton and family arrive at London hotel ahead of Royal Wedding to Prince William>>
NEW PICTURES Prince William and Kate Middleton visit Lancashire before the Royal Wedding>>
MORE PICTURES Amazing facts about Kate Middleton - Prince William's wedding belle>>
NEW PICTURES Prince William revealed! Amazing facts about Kate Middleton's man>>
SEE PICTURES Kate Middleton and Prince William: Their love story in photos>>
PHOTO GALLERY Kate Middleton watches Prince William play polo>>
PICTURE SPECIAL Kate Middleton and Prince William appear together at first public engagement>>
NEW PICTURES Kate Middleton and Prince William attend wedding>>
PHOTO GALLERY Kate Middleton gets into Christmas spirit at charity do>>
Esme Riley