Monday 30 May 2011
Justin Bieber's friend Sean Kingston 'critical' in hospital after jet ski crash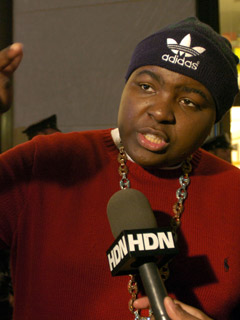 Singer Sean Kingston is being cared for in Florida
Sean Kingston is believed to be in a 'critical condition' after an accident on a jet ski in Miami.
The hip-hop star and a female passenger were rushed to hospital after colliding with a bridge at 6pm local Florida time.
'South beach... #nicee... bout to get fresh and cause that movie!!...' Sean told his 1.6 million followers on Twitter 18 hours ago, before he took to the water.
'The Miami Fire Dept. responded to the scene and both Kingston and his female passenger were transported to nearby Jackson Memorial Hospital,' reports TMZ.com.
'We're told Kingston's injuries are so severe, he is being treated in the trauma ward.'
The 21-year-old's rep confirms: 'Sean Kingston was in an accident today. No further details are available at the moment. He and his family thank everyone for the well-wishes.'
Sean reached No 1 in the UK in 2007 with Beautiful
Girls and duetted with Justin Bieber on Eenie Meanie.
'got my friend @seankingston in my prayers tonight. a true friend and big bro. please keep him in your prayers tonight as well,' Tweets Justin.
SEE PICTURES Justin Bieber and Selena Gomez on holiday>>
SEE PICTURES Justin Bieber gets mobbed at airport>>
SEE PICTURES Justin Bieber bungee jumps off bridge>>
SEE PICTURES Taylor Swift and Selena Gomez's girls' night out>>
PICTURE Justin Bieber's new hairdo>>
SEE PICTURES Justin Bieber: Never Say Never premieres in London>>
SEE PICTURES Justin Bieber shows off his talents on Spanish TV show>>
NEW PICTURES Justin Bieber's life story in photos>>
NEW PICTURES Justin Bieber: Lowdown on the teen star>>
SEE PICTURES Justin Bieber in The top 20 teen idols>