Monday 23 May 2011
Zayn Malik and Rebecca Ferguson's engagement: The truth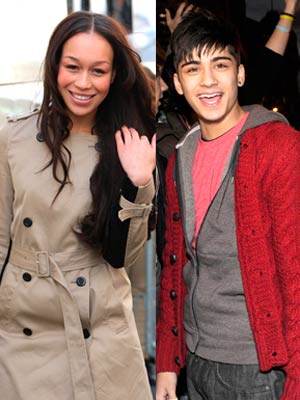 Rebecca Ferguson is 6 years older than Zayn
One Direction fans were shocked when Rebecca Ferguson confimed that she and Zayn Malik are in love.
Now 18-year-old Zayn's been forced to deny claims that he and fellow X Factor finalist Rebecca, 24, are engaged and have been house hunting.
"This is going to come as a shock to their fans, but they're serious and determined to get married,' a source tells the Sunday Mirror.
'They are trying to keep the engagement as quiet as possible so they don't get in trouble with management.'
But Zayn has responded to the report on Twtter.
'Lots of rumours on twitter today ... Im not engaged !! Love you @RebeccaFMusic xx :)' he Tweets.
The unlikely couple were first rumoured to be dating in March but many X Factor fans didn't believe the gossip because Rebecca is 6 years older than Zayn and has 2 young children.
'We're really in love and it's hard to see how negative things have become,' Rebecca, 24, revealed.
'I want people to know that I'm happy, he's happy and we're in a loving, caring relationship. It's sad that people are so against it.
'[Zayn] is actually very mature. He's quiet and really, really nice. I've got a career, I've got my own record deal and money, and I've got my own life.'
Don't miss the new issue of Teen Now - out now!
PHOTO GALLERY One Direction are big babies in their jumpsuits>>
NEW PICTURES Cheryl Cole vs Dannii Minogue

- the 2010 style war>>
SEE PICTURES The X Factor 2010 - the finalists' stylish makeovers>>
SEE PICTURES The X Factor 2010 - finalists prepare for live shows>>
SEE PICTURES The X Factor 2010 - final 12>>
SEE
PICTURES The X Factor 2010 - auditions>>
SEE PICTURES The X Factor 2009 - best moments>>
SEE PICTURES The X Factor: Where are they now?>>