Friday 13 May 2011
Angelina Jolie: My new tattoo represents Brad Pitt's birthplace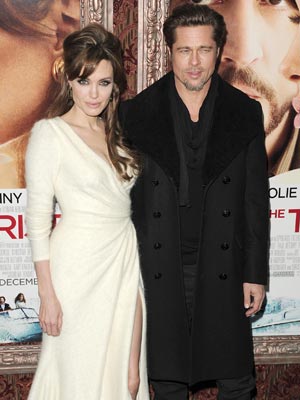 Angelina Jolie has denied rumours that she and Brad are adopting again
Angelina Jolie sparked rumours last month that she was adopting a 4th baby when she showed off a new longitude and latitude tattoo on her left arm.
The artwork, which features the coordinates of the birthplaces of her adopted and biological children - Maddox, 9, Pax, 7, Zahara, 6, Shiloh, 4, and twins Vivienne and Knox, 2 - now has a 7th line added to it.
PICTURES Angelina Jolie and other celebrities' tattoos>>
Angelina, who ispromoting Kung Fu Panda 2 at the Cannes International Film Festival, has now revealed that the 7th line is to celebrate the birth of partner Brad Pitt, 47.
'It doesn't take much investigation to figure that one out,' Angelina, 35, grumpily told reporters. 'The coordinates are Shawnee, Oklahoma.'
The Hollywood actress, who has 14 known tattoos, also has one dedicated to Brad on her inner thigh.
SEE PICTURES Celebrity Tattoos>>
PICTURES Brad Pitt and Angelina Jolie's family holiday in Venice>>
SEE PICTURES Brad Pitt and Angelina Jolie's loved-up date at the Super Bowl>>
SEE PICTURES Angelina Jolie and Brad Pitt nuzzle up at Cannes>>
SEE PICTURES Brad Pitt and Angelina Jolie - a love story in photos>>
SEE PICTURES Angelina Jolie - from sultry
teenage to sexy Hollywood star>>
Rebecca Cohen