Friday 13 May 2011
Watch out, Harry! Pippa Middleton would love to bag a Prince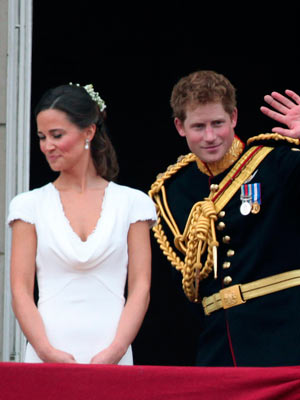 Pippa Middleton can now have her pick of guys
When it comes to dating, Pippa Middleton's men have all had one thing in common: lots of money.
Her boyfriend for three years at uni was Jonathan 'JJ' Jardine Paterson, a banking heir.
She's said to have ended things in 2007 because he wouldn't commit.
'I remember whenever she was out with the girls, she'd act differently if a boy came along,' a friend reveals.
'She'd be more conscious of how she looked and how she came across. It was hilarious.'
Now, with the world at her feet, 27-year-old Pippa's certainly not short of male admirers.
So what's going to happen to her current romance with cricketer-turned-banker Alex Loudon, 30?
'The situation is totally up in the air at the moment,' says a close pal.
'Pippa would rather keep her options open because she's incredibly socially ambitious.
'She's always liked the idea of marrying into aristocracy, which Alex is unable to offer her.'
NEW PICTURES Prince Harry and Chelsy Davy's love story in photos>>
Read the full story about Pippa Middleton in Now magazine dated 16 May 2011 - out now!
NEW PICTURES Royal Wedding crowd celebrate Kate Middleton and Prince William's big day>>
ROYAL WEDDING GALLERY See the guests arrive for Prince William and Kate Middleton's special day>>
NEW PICTURES Kate Middleton wears elegant lace Sarah Burton dress for her wedding to Prince William>>
NEW PICTURES Kate Middleton and Prince William are married at last>>

NEW PICTURES Kate Middleton and family arrive at London hotel ahead of Royal Wedding to Prince William>>
NEW PICTURES Prince William and Kate Middleton visit Lancashire before the Royal Wedding>>
MORE PICTURES Amazing facts about Kate Middleton - Prince William's wedding belle>>
NEW PICTURES Prince William revealed! Amazing facts about Kate Middleton's man>>
SEE PICTURES Kate Middleton and Prince William: Their love story in photos>>
PHOTO GALLERY Kate Middleton watches Prince William play polo>>
PICTURE SPECIAL Kate Middleton and Prince William appear together at first public engagement>>
NEW PICTURES Kate Middleton and Prince William attend wedding>>
PHOTO GALLERY Kate Middleton gets into Christmas spirit at charity do>>