Tuesday 19 April 2011
PICTURES Pregnant Mariah Carey goes nude with husband Nick Cannon to show off baby bump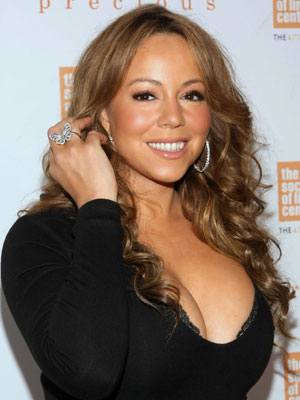 Pregnant Mariah Carey is proud of her body
Pregnant Mariah Carey has stripped off for a new nude photo shoot with husband Nick Cannon.
The singer, who is due to give birth to twins next month, proudly shows off her baby bump in the naked snaps.
In one image, Nick, 30, is seen gently kissing Mariah's tummy and, in another picture, he wraps his arms protectively around her breasts.
The snaps were taken by photographer Kristofer Buckle to celebrate the pregnancy.
'I'm so excited to meet our babies and I'm looking forward to being a mother,' says Mariah, 41.
'Nick will be a hands-on dad. He already reads stories to my tummy.'
NEW PICTURES Pregnant Mariah Carey goes nude with husband Nick Cannon to show off baby bump here>>
SEE PICTURES Celebrity baby names A to Z>>
SEE PICTURES Pregnant celebrities>>