Monday 02 May 2011
Katie Holmes: I'm happy about not having any more kids with Tom Cruise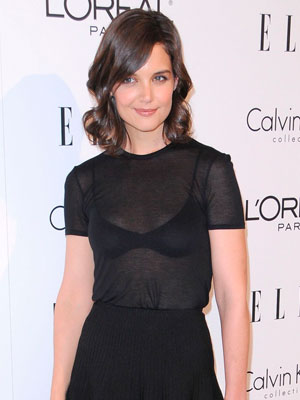 Fresh-faced Katie Holmes could still be mistaken for a teenager
Katie Holmes has revealed that she and husband Tom Cruise have no plans to increase the size of their family.
Katie is stepmum to Tom and Nicole Kidman's adopted children, Isabella, 18, and Connor, 16, who get on well with daughter Suri, 4.
'They're great kids, a great brother and a great sister to Suri, and she's a great sister to them,' says Katie, 32, who loves all her brood.
'It's not, "This is stepmotherhood and this is motherhood."'
'I'm not worried about it [having a new sibling for Suri]. She's got really good friends and great cousins, so I feel happy about it.'
The former Dawson's Creek star doesn't sit and wonder 'what if?'.
'We have a really busy household, and it's really fun and fulfilling,' Katie tells The Times Magazine. 'There's always something going on.'
SEE PICTURES! Katie Holmes and Suri Cruise see the sights in Brazil>>
SEE PICTURES Katie Holmes enjoys a day out with daughter Suri Cruise in New York>>

SEE PICTURES OMG! Look at how cute Suri Cruise is>>

SEE PICTURES Katie Holmes & Victoria Beckham - Style File>>
Dilpreet Bhagrath