Monday 07 March 2011
Lady Gaga favourite Sarah Burton to design Kate Middleton's wedding dress?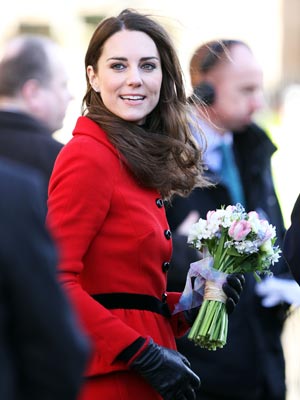 Kate Middleton will marry Prince William at Westminster Abbey
Kate Middleton's keeping all details of her wedding dress a secret - as she should - but Alexander McQueen's successor Sarah Burton is tipped as the likely designer.
Risk-taker Sarah is a favourite of Lady Gaga, Sarah Jessica Parker and Michelle Obama - and she's also already proved her talent to Kate's future step-mother-in-law.
Sarah, 36, designed Sara Buys' wedding dress when she married Camilla Duchess Of Cornwall's son Tom Parker Bowles in 2005.
'I'm sure Sarah will design a beautiful, big, grand gown,' says TV wedding stylist Carol Spenser.
'But it won't be over the top.'
Sarah took over from Alexander McQueen after the British designer hanged himself in February last year. The company deny they're making Kate's dress.
Kate marries Prince William on 29 April.
The Official Royal Wedding website>>
NEW PICTURES Kate Middleton and Prince William launch lifeboat in Anglesey>>
MORE PICTURES Amazing facts about Kate Middleton - Prince William's wedding belle>>
NEW PICTURES Prince William revealed! Amazing facts about Kate Middleton's man>>
SEE PICTURES Kate Middleton and Prince William: Their love story in photos>>
PHOTO GALLERY Kate Middleton watches Prince William play polo>>
PICTURE SPECIAL Kate Middleton and Prince William appear together at first public engagement>>
NEW PICTURES Kate Middleton and Prince William attend wedding>>
PHOTO GALLERY Kate Middleton gets into Christmas spirit at charity do>>
Kate Middleton and Prince William news on the royal Twitter feed>>
Esme Riley