Saturday 12 March 2011
Gok Wan: I've always loved being a bit of a geek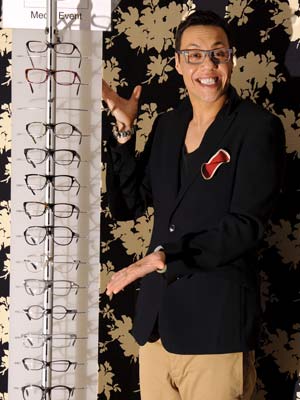 Gok Wan launches his new glasses range
Gok Wan has not always been so popular.
The stylist to the stars was bullied as a child for being overweight, gay and wearing glasses.
'I've always loved being a bit of a geek and the idea of being a bit left-of-centre and embracing my uniqueness,' says Gok, 36.
'It's the one thing that got me to where I am today because I think that if I was like everybody else then I wouldn't be as happy or doing what I do now.'
The fashion icon worked as a magazine stylist before impressing TV viewers with guest appearances on GMTV, Big Brother's Little Brother and The Xtra Factor.
Now Gok stars in Channel 4 show How To Look Good Naked in which he draws from his own life experiences to coach women on how to be confident in their own skin.
The stylist has also now teamed up with Specsavers to launch an exclusive glasses range.

'Having good glasses is just as important as having your hair done or good shoes because the first thing you see when you look at someone is their eyes,' says Gok.

'Something that I quite like about wearing my glasses is that even if I'm wearing a pair of tracksuit bottoms, a massive hoodie and a pair of big chunky builders boots, I put on my glasses and all of a sudden it makes me feel acceptable in the fashion stakes.

'Hopefully what the collection will do is make geek cool and empower people to embrace their individuality and their uniqueness and be more comfortable with their glasses as well.'
Gabriella Joseph