Friday 25 February 2011
Alicia Douvall: My bum implants left me deformed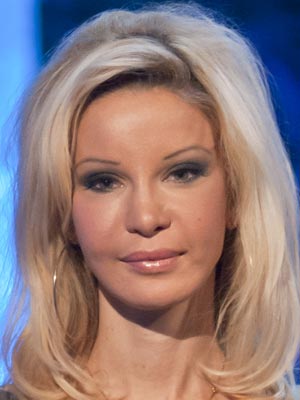 Alicia Douvall has spent around £1 million on her shocking surgery
Surgery addict Alicia Douvall says she can no longer stand her reflection in the mirror or face being naked in front of boyfriends after her bum implants shifted, leaving her in agony.
'I bitterly regret having the op,' Alicia, 31, tells Now.
'I could've bought a house with all the money I've wasted on surgery over the years. Instead, all I've got is a lot of pain and embarrassment.'
Glamour model Alicia has body dysmorphic disorder, a distorted sense of self-image that can lead to crippling anxiety.
She's spent more than £1 million on surgery to change the way she looks and resorted to bum implants in 2006.
'When I lost weight a few years ago, going down to a size 6, my bum went too,' she says. 'So I had surgery to restore it to its former glory.
'It was very painful and I had to wear hideous support underwear for six months afterwards, but I was pleased with the results - I felt 
that it was £10,000 well spent.'
Alicia kept the op secret from friends and family because she didn't want to make a big deal of 
it, but she was delighted to receive flattering comments from strangers about her shapely rear on holiday the following summer.
'Everything was fine 
for the first year,' says Alicia. 'Then I began 
to notice my bum was changing shape. The left implant had moved and had started touching a nerve -
the pain was excruciating.'
The problem was also affecting Alicia's modelling work. She explains: 'When I was doing photo shoots,the photographers started asking questions about why my bum looked wonky.
'I looked fine with clothes on, but naked I was ashamed of my deformed body.'
Instead of having her bum implants removed, Alicia opted to have temporary fillers at a further cost of
£2,000 a time. 'It's drastic, but I feel that it's my only chance at having a normal bum again,' she says.
'You can have permanent fillers but there's a danger they'll move around - which 
is what happened with the implants - so I'm testing the waters with a temporary fix.'
Read the full story about Alicia Douvall and see the astonishing pictures in Now magazine dated 28 February 2011 - out now!