Wednesday 23 February 2011
Katy Perry misses Rihanna's wild 23rd birthday celebrations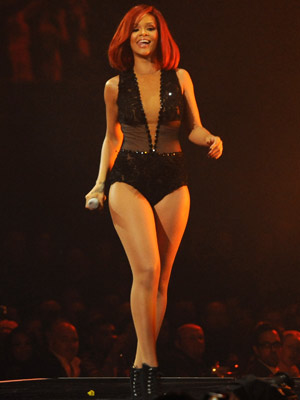 Rihanna's party guests danced to old-school hip hop tunes
Rihanna's close friend Katy Perry was a no-show at her extravagant 23rd birthday celebrations on Monday.
The S&M singer was famously absent from Katy's wedding to Russell Brand in October and Katy also found herself too busy to party with Ri-Ri.
'@rihanna happy birthday boo. Wish I could b there to blackout! Luv U!' Katy, 26, Tweeted.

'@katyperry bitch are u kidding?' Rhianna replied.
'I missed ur WEDDING!! This is small stuff boo! #whenworkcalls.'
Rihanna's lavish bash was held at a private Beverly
Hills residence and featured two huge ice sculptures - a fish and the
letter R - with trays of velvet cupcakes and stashes of sweets.
The birthday girl wore a peach bodycon cut-out mini dress with purple
tassles and partied with Snoop Dogg, Zac Efron and Cee Lo Green.


'Go grawl, its ya birthday, ITS PARTY TIME! All my bestfriends are here!!!!' Rihanna wrote in a subtle dig at Katy.
'And my BRO!! Wish u cud see how SICK this sh*t is!!! #Staytuned.'
SEE PICTURES Rihanna and Chris Brown - their love
story>>
SEE PICTURES Rihanna's style file>>
SEE PICTURES Rihanna's rise to fame>>
SEE PICTURES Rihanna rocks new red hair and dress to turn on Christmas lights>>
SEE PICTURES Rihanna's sexy concert in New York>>
SEE PHOTO GALLERY Russell Brand and Katy
Perry - a love story in pictures>>
SEE PICTURES Katy Perry and Russell Brand
celebrate grandma Hudson's birthday>>
TWITPIC See Katy Perry without her
make-up>>
Esme Riley