Tuesday 22 February 2011
Elen Rivas: Peter Andre is passionate and sweet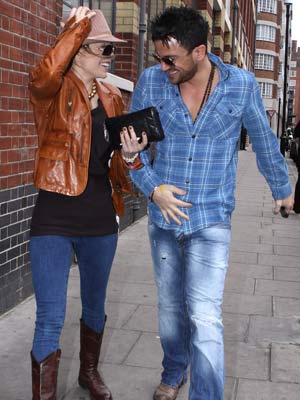 Elen Rivas is mum to Luna, 5, and Isla, 3
Elen Rivas doesn't find it hard to list Peter Andre's good points.
'He is just such a nice person and the way he talks is nice,' gushes Elen, 36.
'He is very tender, passionate and really sweet.
'Really, really sweet.
'He is a very genuine person, very caring towards everyone and thoughtful.'
Dad-of-two Pete, 37, met Elen at a party for
their manager Claire
Powell in November and the couple confirmed their relationship last
month.
'I drive him crazy I think,' she tells OK!
'But I make him laugh. And he makes me laugh too.'
SEE PICTURES Is Alex Reid the new Peter Andre?>>
SEE PICTURES Alex Reid and Katie Price's love story in photos>>
SEE PICTURES Peter Andre's night on the town with Nicola McLean and Chantelle Houghton>>
SEE PICTURES Jordan and Peter Andre: A love story in photos>>
SEE PICTURES Katie Price in Birmingham>>
SEE PICTURES Katie Price launches iPod range>>
SEE PICTURES The changing face of Katie Price>>
SEE PICTURES Katie Price's hen night>>
SEE PICTURES Peter Andre and Elen Rivas
enjoy a romantic afternoon>>
SEE PICTURES Elen Rivas celebrates her 36th
birthday>>
SEE
PICTURES Elen Rivas models new Diamond Boutique
collection>>
SEE PICTURES Christine Bleakley and Frank
Lampard get the giggles>>
SEE PICTURES Christine Bleakley's night out with
Frank Lampard>>
SEE
PICTURES Christine Bleakley and Frank Lampard's loved-up
date>>
Esme Riley